Residential
APTAVIS provides every household with the ability to enjoy personalised entertainment contents based on each individual's media consumption preferences. APTAVIS also provides the unique features ranging from interactive applications which includes online shopping or food orders, utilities billing information, area information as well as Kids Mode for the little ones.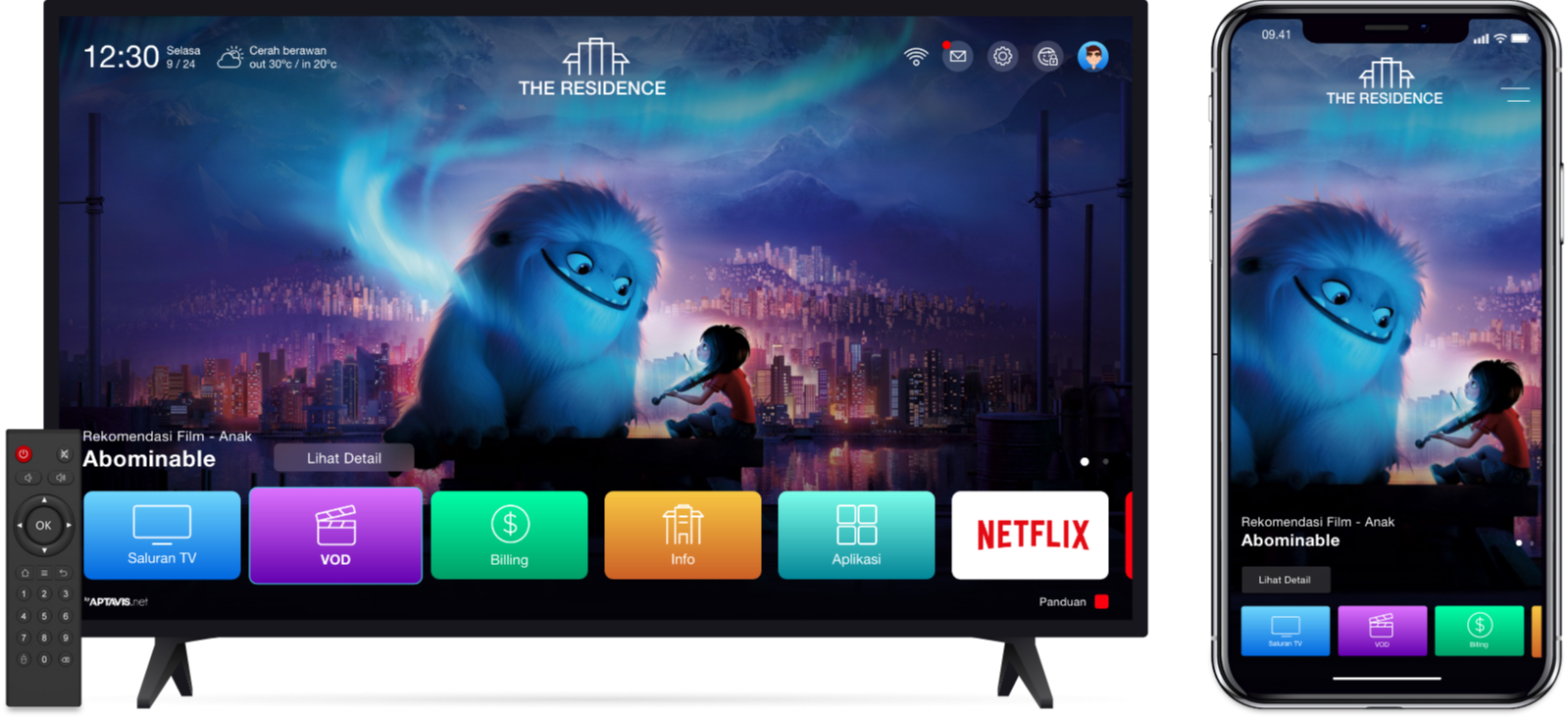 TV Channels, Video On Demand, and Movies
A digital head-end receives satellite signals and distributes programming to television sets at your hotel. With a digital head-end, you choose which channels are available. Head-ends also come in different sizes, with room for many or few channels.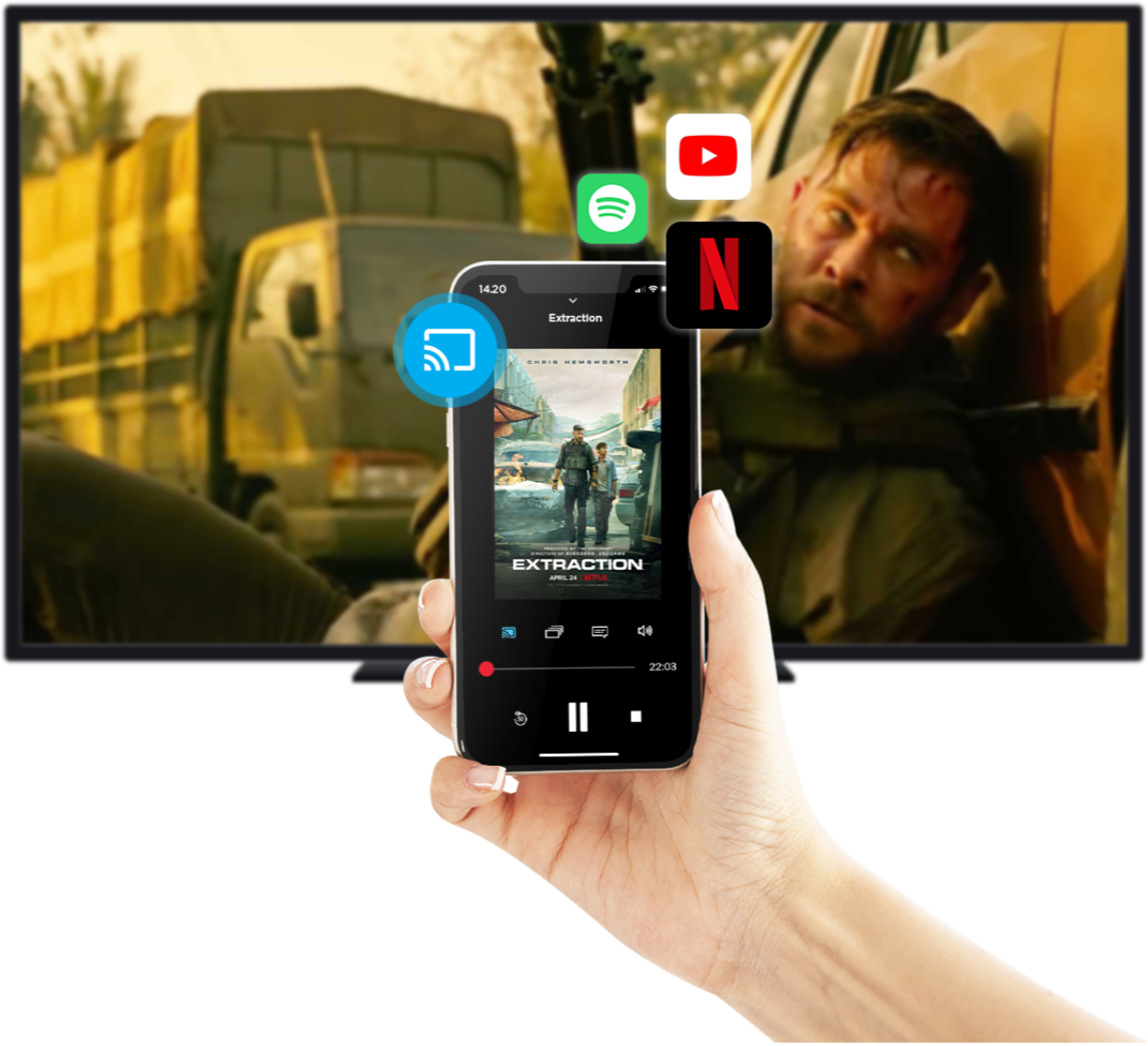 APTACast
Simply use your device to cast your favorite Movies (Netflix), Music (Spotify), Games and more to guest room TV. Chromecast works with iPhone, iPad, Mac, Android Phone, Tablet, and Windows laptop.
Powerd by Google Chromecast
IPTV Mobile
IPTV mobile allows you to use IPTV with your smartphone, without disturbing the IPTV function on the TV. So you can freely order food, etc. without having to interfere with the excitement of watching a movie on TV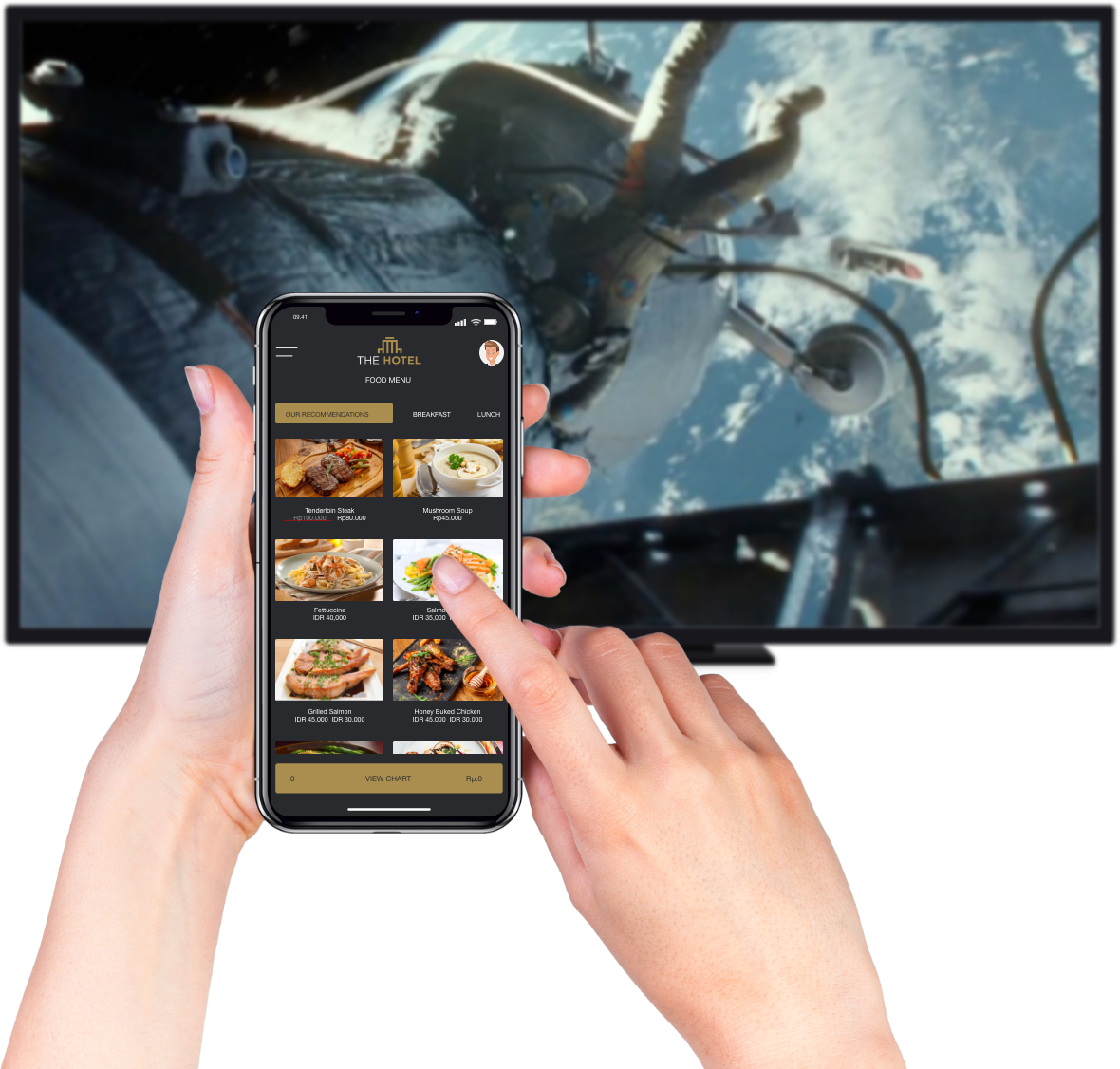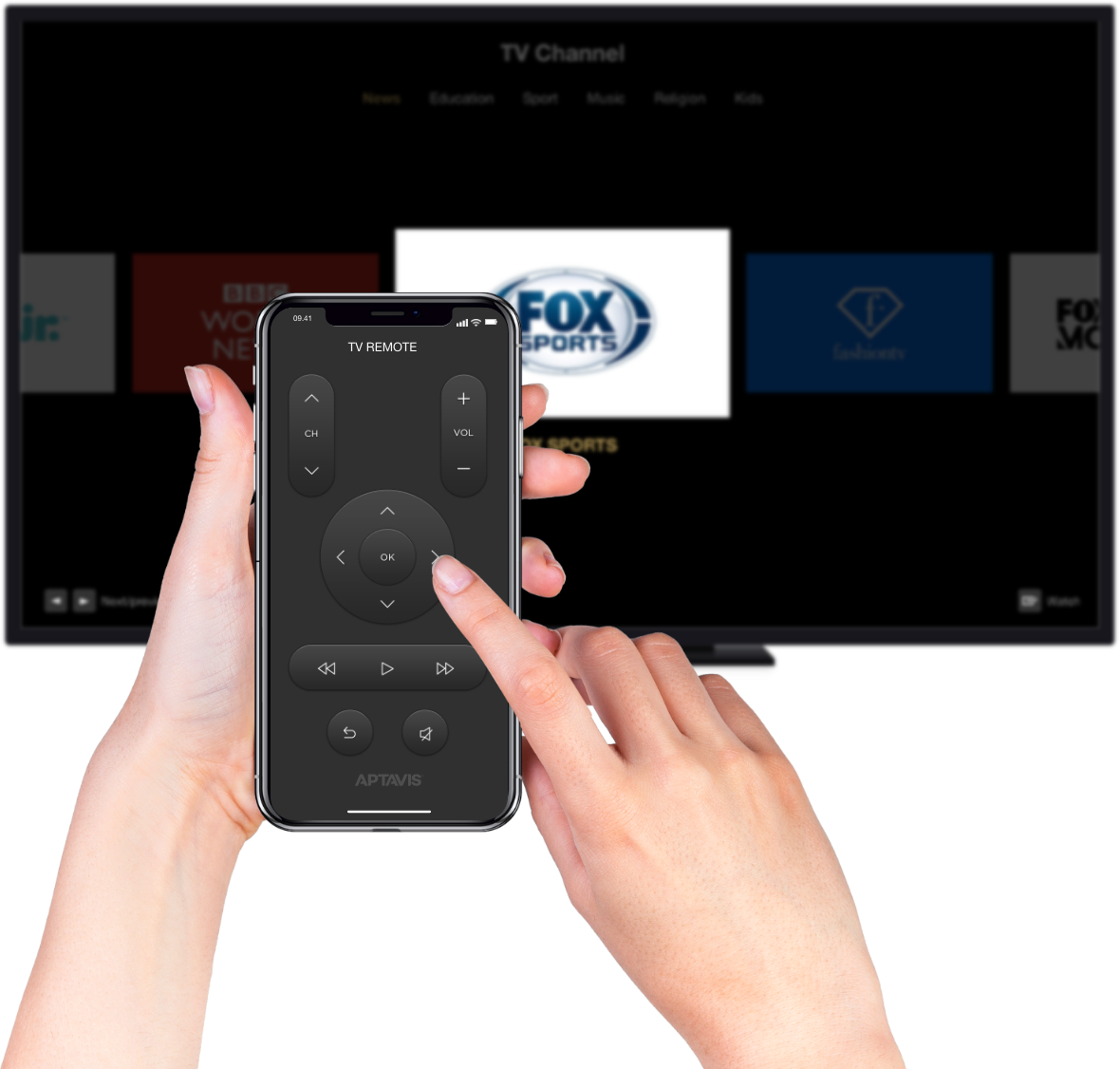 Virtual Remote
You don't need to worry if you are afraid to use the remote, because you feel less sterile. Virtual Remote allows you to switch the TV remote function to your smartphone.

Digital Signage
Easily make information and offers known to your guests using screens in public spaces. You can publish and manage the content for all the screens online using the personalised IPTV Management System (IMS) within the connection of your hotel's LAN.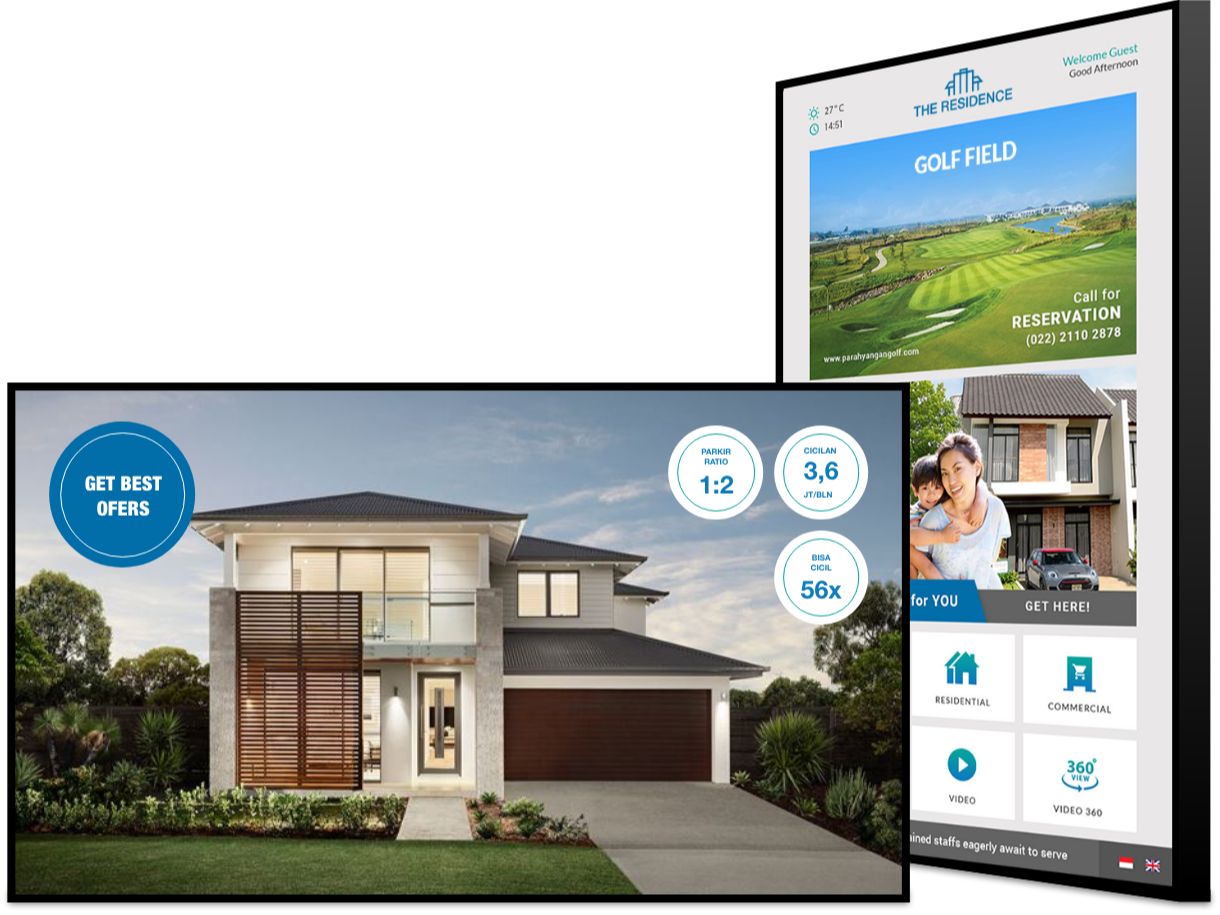 Residential Info
Providing useful information facilities such as about residential areas, types of housing, commercial areas, facilities, events, news, and more

Edutainment
Continue to educate yourselves on a variety of subject matters which cover topics like business, design, lifestyle or even your personal hobbies such as photography. The contents are updated regularly and they will appear in accordance to you preferences.

Entertainment
Gain access to a myriad of entertainment options ranging from local TV channels, to on-demand contents, music, podcasts and even games. Enjoy endless forms of entertainment through a single platform.

Easy Payment
APTAVIS allows you to have a one-stop place to view all your household bills which includes utilities, tele-communication, subscription-based services and more. You could also make digital payments securely and directly through your TV or mobile devices.
Shopping Online
Shopping online has never been easier. The convenience of online shopping allows you to keep up to the latest fashion with a simple click of a button. You can even order your food while watching your favourite shows which gives you that first-class entertainment experience, without the premium price.

Personal Profile
APTAVIS allows you to create individual user profiles. Each user profile will have their own unique welcome page and recommended contents based on the behaviour of each user. This allows each user to enjoy an enhanced media consumption experience.

Personal Content
Never miss out on the latest news and deals. Your news or shopping preferences would get better as you use the APTAVIS system. The system is engineered to learn about your interests and they are unique to each individual profile of the household user.

Smart Control
APTAVIS allows your TV to be the hub of your Smart Home. Control your smart thermostat and lighting without leaving your seat. You could also view and pay your utilities and other household bills securely from the TV or mobile device. You could also contact the residential management and obtain the latest events and information around your residence.

Opportunities for Businesses
Merketing & Advertising
Effective marketing and advertising to targeted audience. APTAVIS system allows the right contents to be delivered to the right people. This will result in a more economical advertising cost

E-Payment
Bundle your services, such as smart home systems or e-payment services, with APTAVIS system to gain greater customer reach and higher usage of your services.

Broadcast Messages
Remotely send broadcast messages with the APTAVIS system to the residents on the latest news and updates, as well as the latest events that are happening in the neighbourhood.

Integrate System
Integrate APTAVIS system as a part of the residential add-on value or unique selling point to increase the commercial value of the properties.

Sales & Protability
Know what your customers want by gaining user insights and habit to enable your business to make better business decisions to enhance your sales and profitability.

Educate
Educate the residents on the latest government initiatives and how they can benefit from them through the education channel natively within APTAVIS system.

Ready to learn more?
See how our streaming solutions can improve your guests' experiences.