Hotel
Give your Hotel, the interactive TV system it deserves with a Hotel IPTV solution from APTAVIS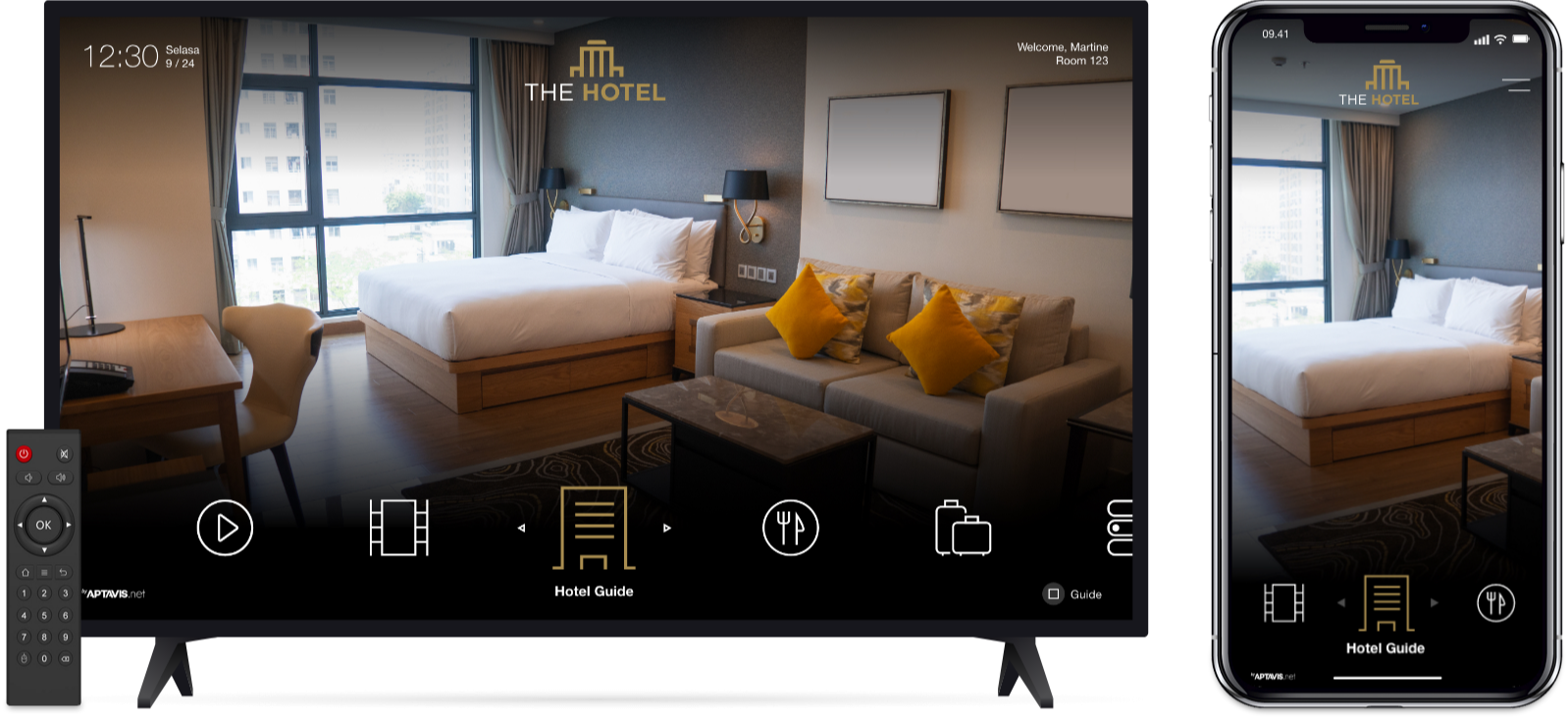 TV Channels, Video On Demand, and Movies
A digital head-end receives satellite signals and distributes programming to television sets at your hotel. With a digital head-end, you choose which channels are available. Head-ends also come in different sizes, with room for many or few channels.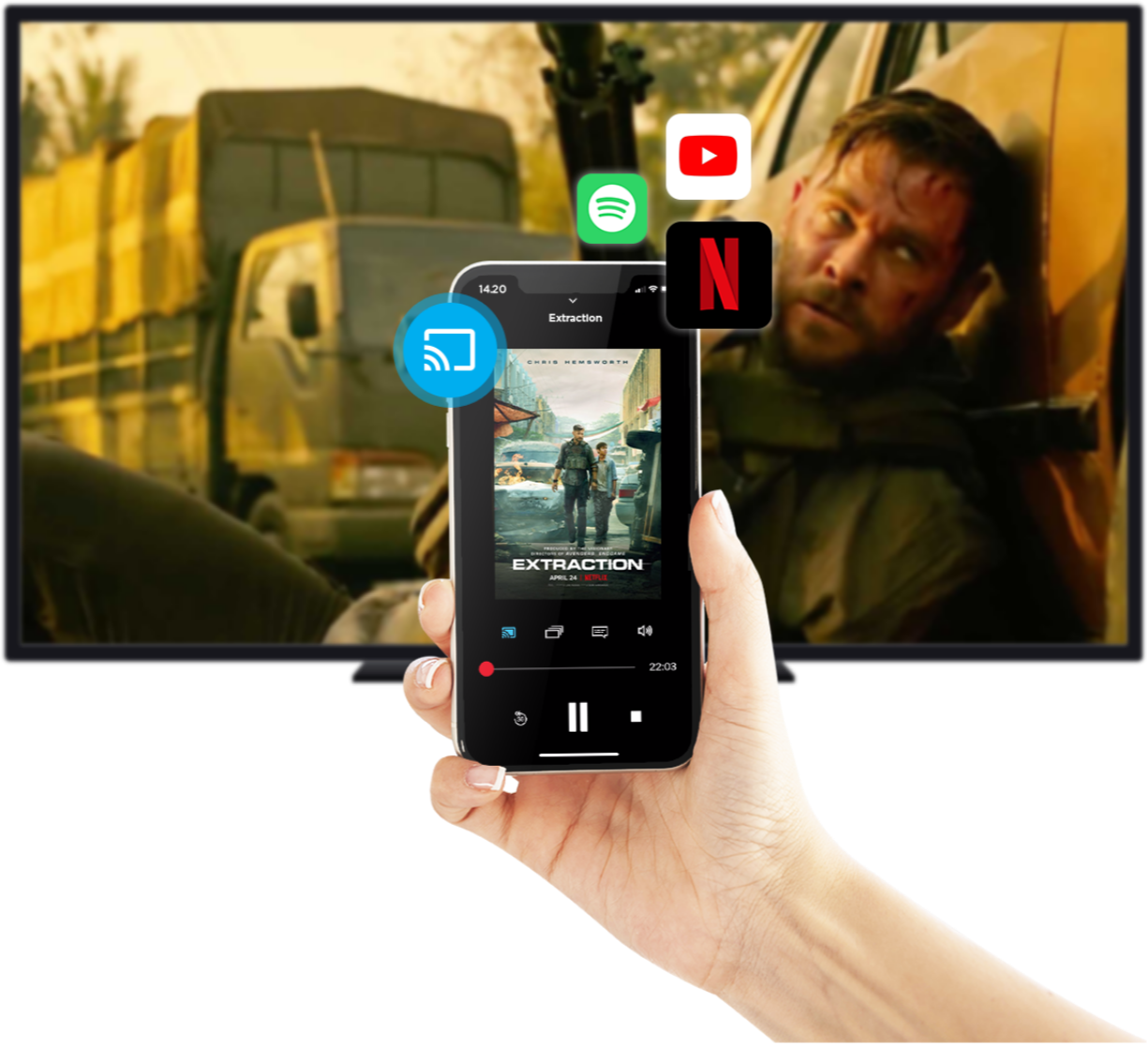 APTACast
Simply use your device to cast your favorite Movies (Netflix), Music (Spotify), Games and more to guest room TV. Chromecast works with iPhone, iPad, Mac, Android Phone, Tablet, and Windows laptop.
Powered by Google Chromecast
IPTV Mobile
IPTV mobile allows you to use IPTV with your smartphone, without disturbing the IPTV function on the TV. So you can freely order food, etc. without having to interfere with the excitement of watching a movie on TV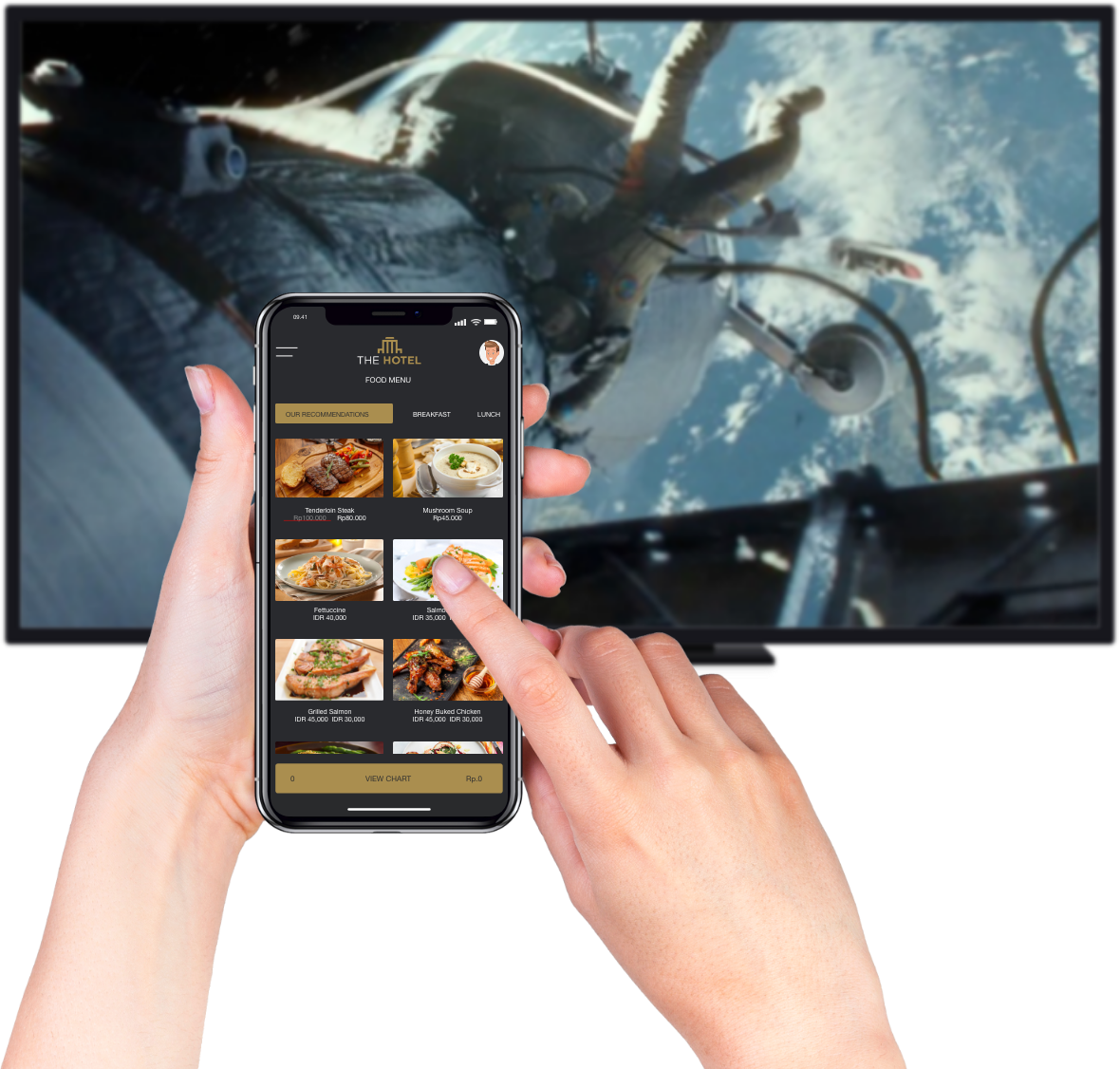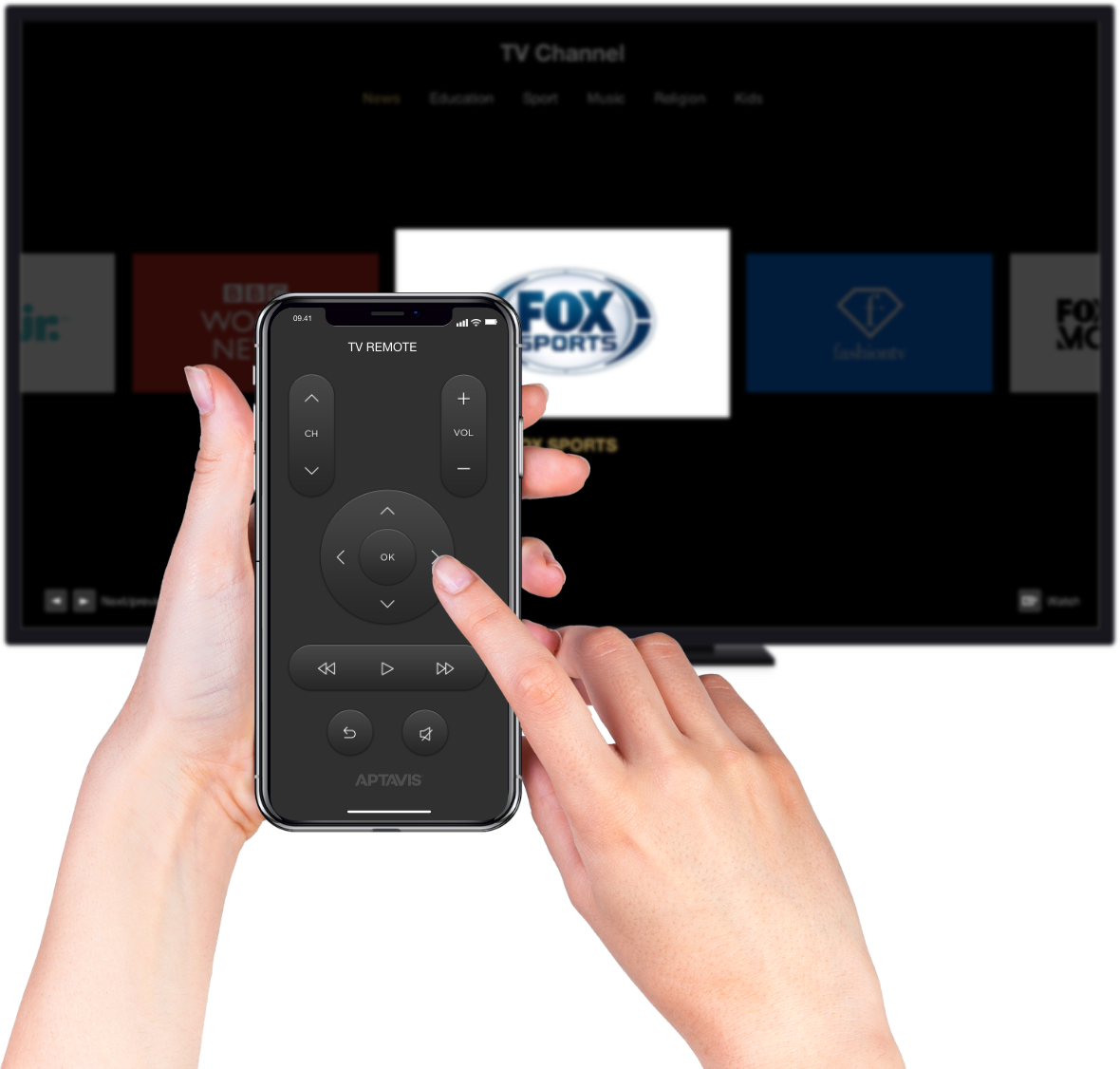 Virtual Remote
You don't need to worry if you are afraid to use the remote, because you feel less sterile. Virtual Remote allows you to switch the TV remote function to your smartphone.

Digital Signage
Easily make information and offers known to your guests using screens in public spaces. You can publish and manage the content for all the screens online using the personalised IPTV Management System (IMS) within the connection of your hotel's LAN.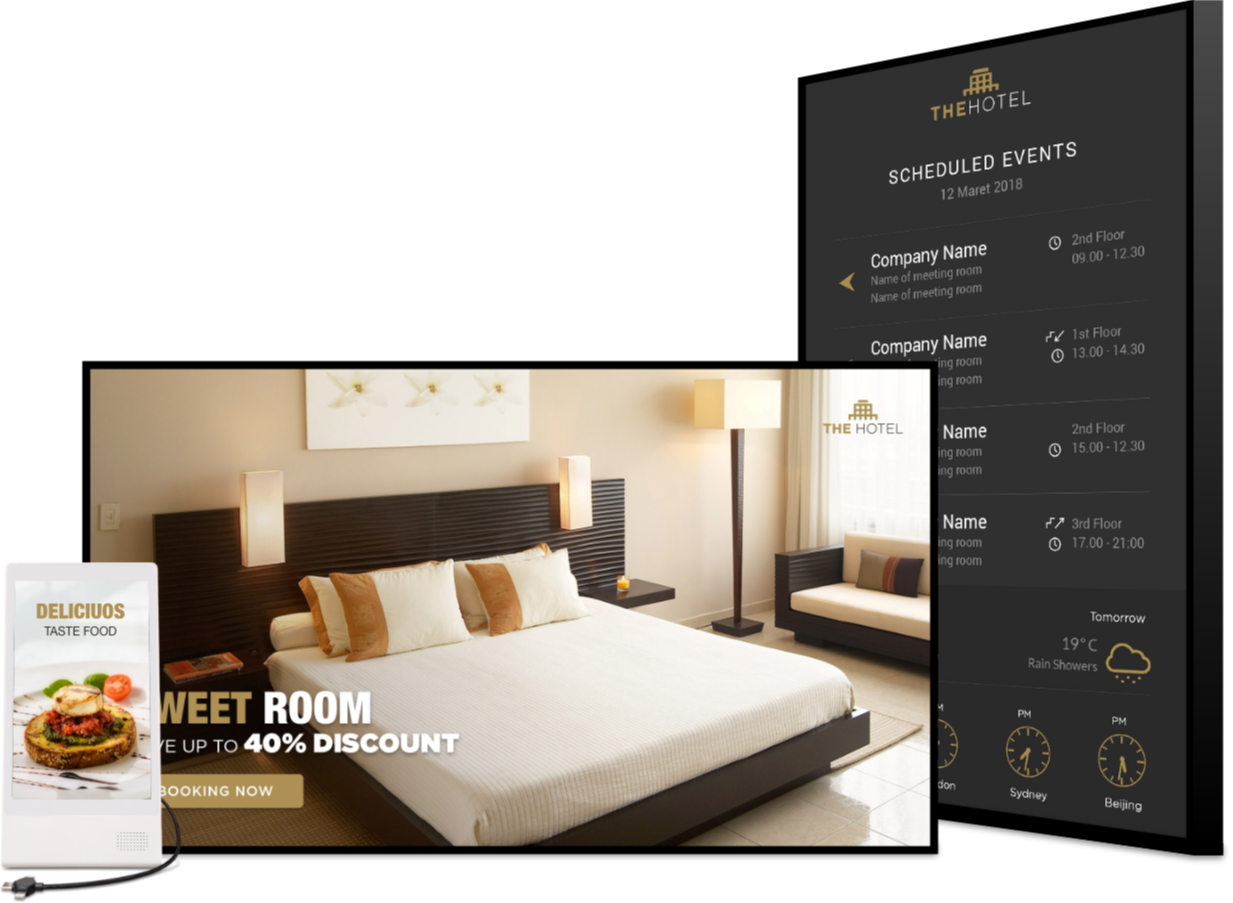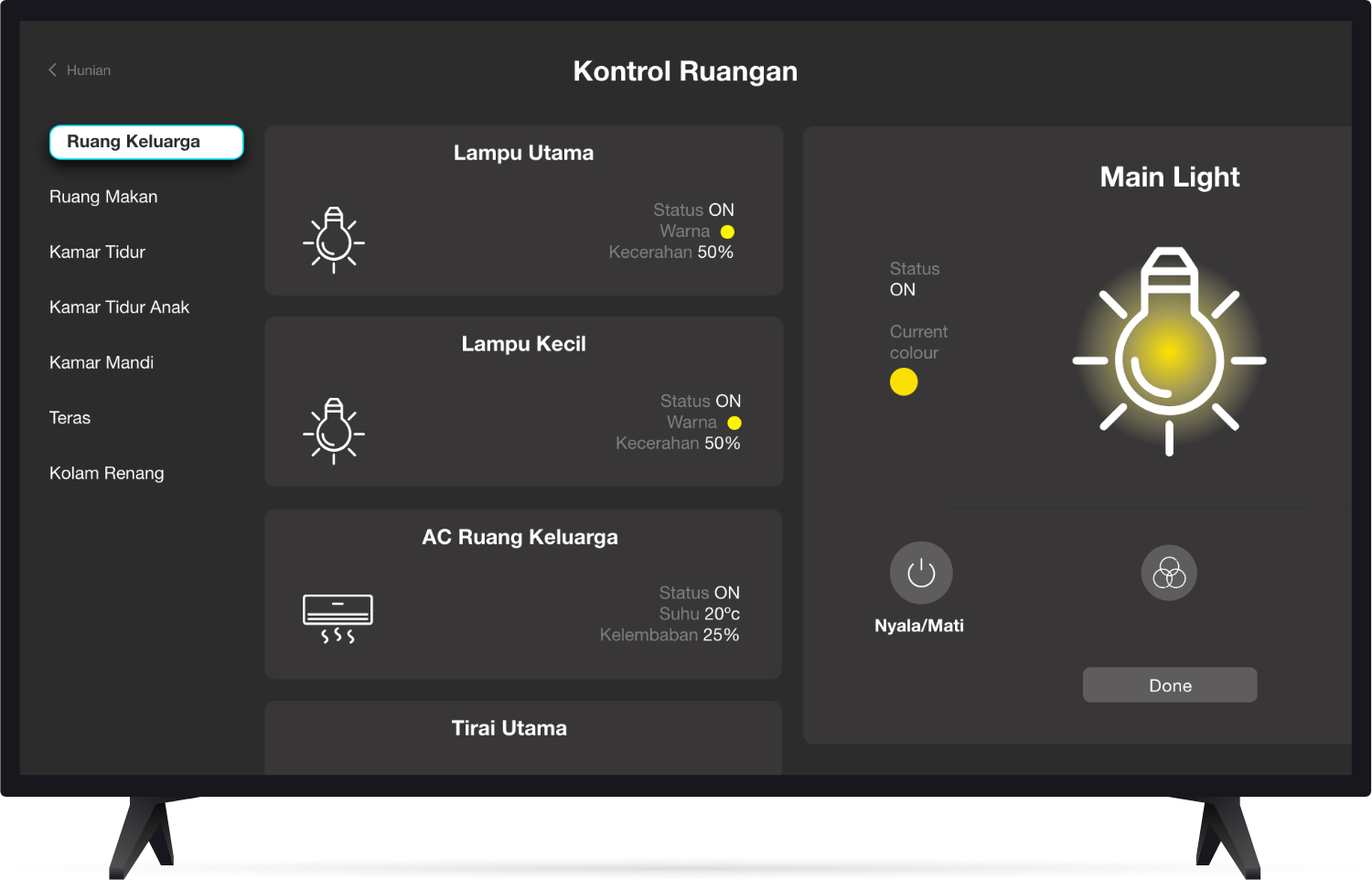 Smart Room
Control
Now your guests may control lights, climate and electric curtains with the TV remote control.

Customization
Application flexibility provides you with unlimited customization opportunities. APTAVIS will fully comply with your corporate standards or brand book.


Upsell your services
Everything can be conveniently purchased with a click of a button. The built-in virtual shop enables you to upsell products from your souvenir shops, spa services and your special or seasonal promotions. Electronic advertising has been proven to be able to generate higher sales than that of traditionally printed advertising materials.
Visualize your offerings
APTAVIS system provides guests with comprehensive, up-to-date and visual information which is limited only by your imagination! You can easily make changes to the design, range of products, language options and prices in real-time without impacting your guests' use of the service.

Generate additional revenue
Besides enhancing your customer service experience, APTAVIS system gives you the ideal opportunity to promote and enhance awareness of your facilities, retail space and partner's services which would generate additional revenue for your hotel.

The Questionnaire module
Allows you to get a deeper understanding and a comprehensive analysis of your guests' needs in order to instantly and continuously increase your guest satisfaction level.
Increase in-room dining sales
APTAVIS system enriches the guest dining experience. This added convenience helps to raise in-room dining sales. Sumptuous room service meal orders or even a perfect chilled bottle of champagne are all available to your guests via TV screen with a simple click of a button.

Saving costs
All hardcopy information and images that are traditionally printed and placed in the guestroom compendiums are now digitised. Digitalisation ensures that the information presented are the most updated, saving not only significant printing costs but also the environment.

Real-time analytics
We will help you to have a real-time visibility and understanding on what information your guests are most interested in, which services are most used and even how long your guests spend using the APTAVIS system.

Automation of processes
Cost-savings avenue in terms of reducing the number of staff needed in concierge and call centres. Your guest's direct issues will be handled by the IPTV system.

Ordering Hotel Services
Just via an in-room TV screen, guests can make the most out of their stay. APTAVIS system brings all relevant information to your guests' fingertips. The TV screen allows access to view dining menus, order room service, reserve a table at the restaurant, book spa treatments and explore your hotel.
Screen Mirroring
Screen mirroring by APTAVIS system enables guests to mirror his devices on the TV and push content to truly bring at-home-from-home experience to his room, of course in HD video quality and sound.

Built-in Messenger
Allow your guests to communicate with hotel staff and even directly with managers and vice versa. APTAVIS system guarantees that you have the most genuine feedback and accurate suggestions from your guests.

Local area information
An interactive map integrated with specially curated information on local attractions. Designed with your guests' needs in mind, we recommend places of interests, bars, restaurants, clubs, beaches and so on. You will help your guests to save time and maximise their enjoyment.
Multi-lingual support
We always strive to enhance communication between you and your guests. This is where our built-in multiple language support can play a part to remove language barriers and bringing your guests closer to you.
Integration with PMS
Guests will be able to view their bill, request for a wake-up call, write or receive messages and also do an express checkout.

Ready to learn more?
See how our streaming solutions can improve your guests' experiences.